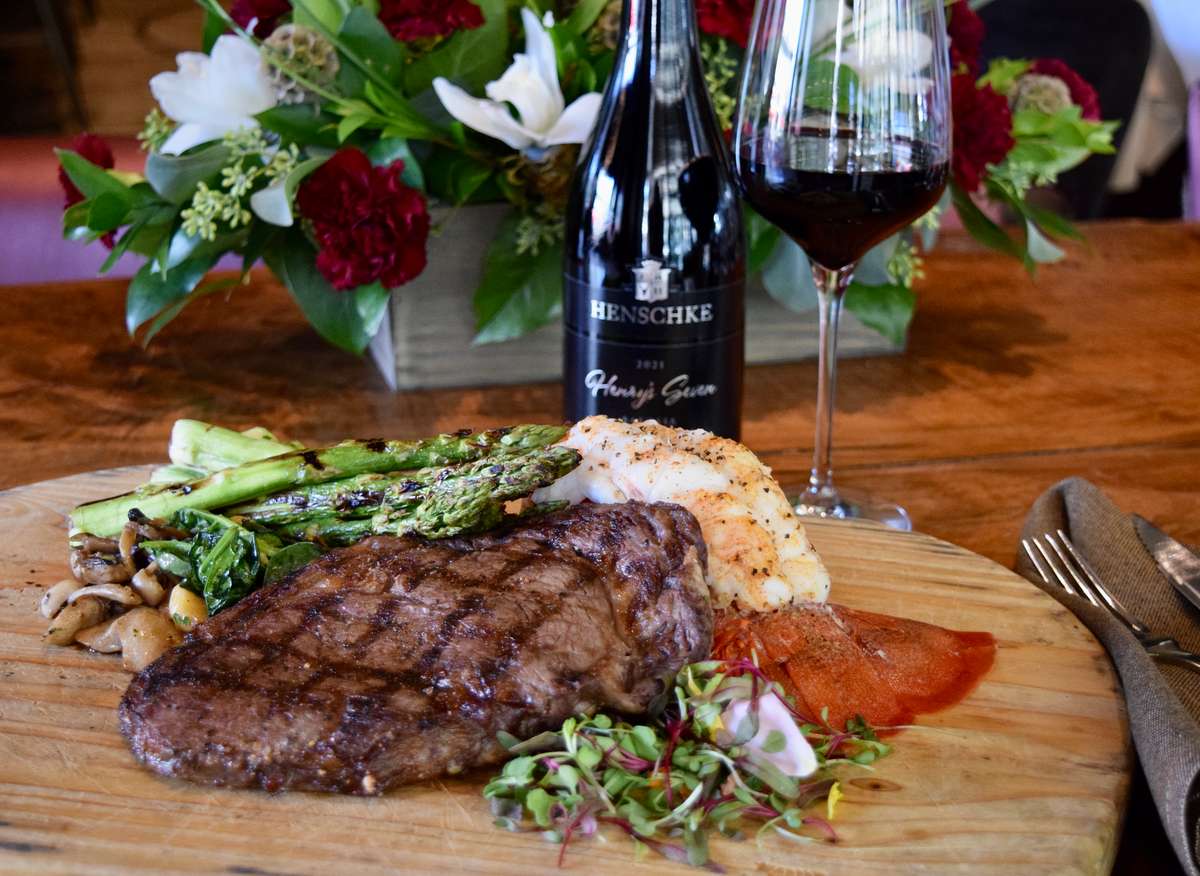 A Luxurious Australian Adventure Awaits You at LB Steak!
A Luxurious Australian Adventure Awaits You at LB Steak!
Prepare to embark on a culinary journey like no other as LB Steak proudly presents the "Australian Surf & Turf Down Under Event." From October 16th to October 22nd, 2023, our esteemed guests will be treated to a luxurious date night experience that transports them to the heart of Australia, right here in the Bay Area.
A Taste of Australia: The Menu
Our specially crafted menu addition, inspired by the rich flavors of Australia, promises to tantalize your taste buds and elevate your dining experience. Explore the delectable dish and wine pairings that await to take your palate on a luxurious adventure Down Under :
Entrée: Surf and Turf for Two: This sharable dish combines a Westholme Purebred 14 oz Rib Eye and a 8 oz West Australian Lobster Tail with sauteed spinach, foraged mushrooms and grilled asparagus.
Recommended Appetizers: Our chefs recommend pairing your protein with our LB Potato, with bacon, chives, and four-cheese béchamel, or our savory Lobster and Pork Belly Macaroni and Cheese.
Sommelier-Recommended Wine Pairing: This course has been thoughtfully paired by our expert sommelier with the 2021 Henschke "Henry's Seven" from Barossa, South Australia, the perfect flavor complement.
Westholme Ranch: The Essence of Australian Beef
At the heart of our menu is Westholme Ranch, a name synonymous with exceptional beef. Located in the pristine wilderness of Tropical North Queensland, Westholme Ranch is committed to ethical and sustainable farming practices. Their cattle roam freely, enjoying a diet of lush pastures, resulting in the incredibly tender and marbled meat that has made Westholme world-famous.
By incorporating Westholme Ranch beef into our menu, we bring you an authentic taste of Australia's culinary excellence.
Purebred is Westholme's own breed of cattle, the Mitchell Breed, and it is bred with the original 4 Pure black Japanese cattle, giving these steaks the best of both worlds, with a decadent fat marbling and a sweet, toothy texture that only comes from Westholme.
Henschke Vineyards: A Symphony of Australian Wines
No Australian culinary journey would be complete without a fine selection of wines, and that's where Henschke Vineyards comes in. Established in 1868 in the Eden Valley of South Australia, Henschke is a celebrated winery known for producing wines of exceptional character and complexity.
Complementing this epicurean delight is Henschke's "Henry's Seven" from Barossa, South Australia, the 2021 vintage that encapsulates the region's rich terroir. With its interplay of Shiraz, Grenache, and Viognier, this wine intertwines seamlessly with the Rib Eye and Lobster, elevating the dining experience to new heights.
An Unforgettable Date Night Experience
Our Australian Surf & Turf Down Under Event is more than just a dining experience; it's an opportunity to indulge in the finest flavors of Australia without leaving the Bay Area. Whether you're celebrating a special occasion or simply looking to treat yourself and a loved one to an extraordinary evening, LB Steak is ready to transport you to the land Down Under.
Join us from October 16th to October 22nd, 2023, at both LB Steak locations, and allow us to take you on a culinary journey through the flavors of Australia. Book your table now for a date night filled with luxury, exquisite cuisine, and the warmth of "Australian" hospitality.
At LB Steak, we believe in creating memories one exquisite bite at a time. Don't miss this exclusive opportunity to savor the essence of Australia right here in the heart of the Bay Area. Reserve your table today, and let the adventure begin!